Do you have a guy who is your custom printer?
The Everything Printing & Shipping Center is our copy guy in the greater Boyertown area.

The center has gone through a few changes like all business's to include the consolidation of two locations into one location, and a rebranding campaign when they changed their emphasis from shipping to printing. Back sometime ago, it had been "Everything Postal & Printing". But the owner decided he wanted to change the emphasis of his business to printing rather on shipping.
Anyway, that is enough of a review for now. Now the local SEO(Search Engine Optimization) assessment.
Local SEO Site Assessment
Site:http://www.everythingprint.us/
Domain Age:3 years,3mo 23 pages
The site is a very simple, clean site, that is extremely easy to use, and does not have any usability issues that hinder visitors. It passes the Google Mobile-Friendly test.
Sample Local SEO Rankings
The site shows up in local search for many good keyword phrases.
| | |
| --- | --- |
| Keyword | Rank |
| copy center boyertown pa | 1 |
| commercial printer boyertown pa | NF |
| printing company | 2 |
| copy company boyertown | 1 |
| advertising printer boyertown pa | NF |
| Color Printing Boyertown | 8 |
Website Suggestions for Improvement
Needs to be integrated with Social Media.

Add profile icons above the fold to your Facebook and Twitter.
Add social sharing buttons.
Add a blog to make adding content easy and to make it the center of your social media marketing.

The Title tags are a bit weak, and should be re-written with keyword rich titles. Title tags are not seen by people, but are rather seen by search engines.
Tweak the h1 tags. H1 tags, which can be considered to be the titles of the pages that people see, should be tweaked on some of the pages.
Optimize Images:

Use alt and title tags on images.
Before images are uploaded to your site, make sure they have a good keyword rich file name.
Offpage Local SEO Suggestions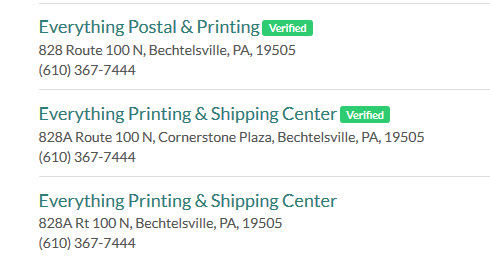 Keep an eye on your citations(sites like superpages). Since the title of the business was changed, there are listings out on the web that still use the old business name.  When possible, listings should be edited for consistency to include the same address, business name, phone number, website url, business hours etc. Visit Moz Local for more help on managing your citation listings.
Social Media Suggestions for Local SEO
Social signals are an important factor in determining search rank. Increasing Social Media presence will have and indirect affect on sales. Don't sell on it though, just interact.
The Everything Printing & Shipping Center Fanpage has 809 likes currently. The last posting was on September 2nd and has a total of 6 updates so far in 2015. Updates could be a little more regular, but then again, I have seen a lot worse.  However, updates when made more frequently, will show up better on the walls of people who have liked the business.

share images of print jobs daily.
Share images of things that have been shipped.
Share a daily video.
Share posts from other business's that you network or business customers.

The EverythingPrinting Twitter profile is pretty in active. I would suggest automating it with a feed from Facebook, and possibly adding a Priting feed using Twitterfeed.com or Hootsuite.
As mentioned above, integrate your site with social media. Make it easy for customers to follow you, and to share your content.
Well that's the Local SEO Assessment for Everything Printing & Shipping Center. The business is doing fairly good online, but there is always a way to improve.
If you are in the greater Boyertown area, and in need of a printer or a shipping center, I would highly recommend using them.
Sign up for our email list!