For this weeks Local SEO(Search Engine Optimization) Assessment post, I am doing the assessment on Freeds Supermarket of Gilbertsville PA.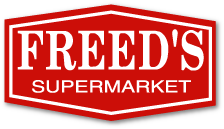 Freeds is small grocery store, much like one of the local IGA markets that you would find in many small towns, but I believe it is an independent grocer.
Over 6 years old
Built with html pages.
Not including image files or pdf specials, the site has 6 pages to include home, specials, contact, events, history. and signup page.
Not mobile compliant
It does seem to be updated, at least the pdf specials are current.
Not integrated with social media.
Freeds Supermarket Social Media
I did find Freed's Facebook page, and it is updated pretty regularly, and has over 1400 likes. Updates consist mainly of pictures of the weekly specials flyer, and pictures of cuts of meat..The butcher must be updating the Fanpage.
Freeds has a Twitter that has been updated one time, but at least they have one.
Freeds has a Yelp with two very positive reviews.
Freeds competition
Includes Giants, Weis Market, Redners, Target, and Walmart. For some convenience items, Wawa might be a competitor as well.
Sample Google Rankings
| | | |
| --- | --- | --- |
| Keyword | Google Organic Rank | Google Local Rank |
| grocery store gilbertsville pa | 1 | 29 |
| supermarket gilbertsvile pa | 1 | 2 |
| where to grocery shop in gilbertsville pa | 1 | 6 |
The sample keywords above show where Freeds shows up first in the Organic Search Results, which is the unpaid listings that appear below the local results which is listed second.
The Google local results are what shows up on mobile devices when a search is done. Today, more than 50% of all searches are done on mobile devices of some sort, so being in the top 3 of the Google Local listings is very important.
Reviews of Freeds Supermarket
I don't normally shop at Freeds, because I don't live in Gilbertsville, but I wish my town had a grocery store like Freeds. I do however, stop in occasionally when I am driving by.  Current reviews found online include:
2 reviews on Google
69 reviews on Facebook with an average of 4.6 out of 5 stars.
2 great reviews on Foursquare..love the one that says "Talk to the butchers, they'll do anything for you."
2 positive reviews on Yelp.
11 Suggestions for Freeds SuperMarket Local Online Marketing
Google – Claim all listings especially Google Local. Create a free Gmail account for your business, then search for "google local business listings" and create and claim your listing.

use your Gmail account as the master account for all of your Google profiles to include Youtube, Google local map, and Google Analytics and Webmaster Tools.

Claim Yelp profile.
Your website needs to be redesigned, I suggest redoing it with WordPress and using a good theme that is mobile compliant.
SEO your site to include htags, title tags, images, and content. You are doing pretty good already for local SEO, but you can certainly improve.
Integrate your site with Social Media to include:

icons at the top of every page that go to your Social Media profiles
Have your developer install Open Graph code for social networks.
use social sharing buttons.

Add more images to your site and use alt and title tags in images.
Use a blog, and post updates at least weekly. Updates can be:

your flyer
videos of your store.
features of the day.
public service announcements

Use Pinterest to share food images to include images of weekly recipes that people could make with items that you have on sale. Put a Pinterest tab on your Fanpage. Pinterest has a high percentage of female users, who frequently are the ones doing the shopping.
Facebook – you are doing a pretty good job already, but you can be a little more social. Try doing a few contests or have in store Fanpage specials to include check-in specials. Get Fans talking and sharing with their friends.
YouTube – Post regular updates maybe cook the recipe that was shared on Pinterest. Youtube videos don't need to be too professional, but keep them under 3 minutes.
Continue to provide great friendly service to customers..they seem to love you.

use social media to monitor what they are saying about you, and to interact.
Well that is this weeks local SEO post. If you are from Freeds, please let me know if you have any questions.

If you have a small business and would like me to do an assessment of your business, please contact me via our contact page or give me a call.

Sign up for our email list!