This weeks local SEO assessment is for Baird's Catering, a caterer from Gilbertsville Pa. The owner Bill, is a friend and networking associate, so I told Bill I would feature is site in this weeks Online Marketing Blog post.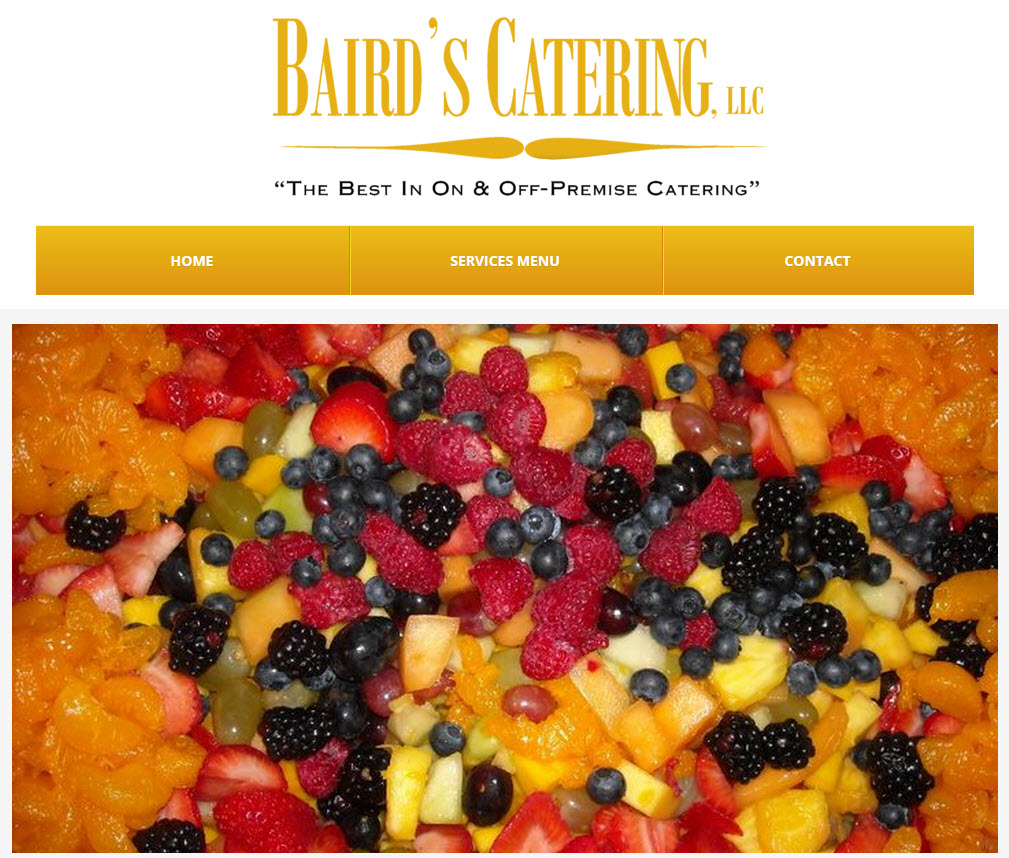 Baird's Catering Online Marketing Assessment
Site- http://www.bairdscatering.com/
Current site Age-9 years, 6 mo
Meta Data – 
Title tags – not optimized
Meta Description – not optimized
Images – No alt tags or title tags used
H1 tags – used but not efficiently
Social Media –
Social Media Integration –
Does have a bookmarking widget on the side bar and has a Facebook box on the home page.
Social Media Profiles –
Has a fanpage but it is not regularly updated.
Has a YouTube Channel with two videos and is not finished.
Claimed Google+ but did not complete the page.
Sample Keyword Rankings
| | | |
| --- | --- | --- |
| keyword | google map | Google |
| Pottstown Caterer | 13 | 7 |
| Pottstown pa caterer | 9 | 5 |
| Pottstown pa catering | 9 | 6 |
| Pottstown PA Event planner | NF | NF |
| Gilbertsville Event Planner | NF | NF |
Online Marketing Tips for Baird's Catering
Your site is rather small(3 pages) and you are in a very competitive niche, so you really need to add more content in the form of pages, a blog, and a gallery.

Sub pages for Weddings, Private parties, etc.
Picture gallery

Social Media Integration –The site currently has a floating social bookmarking widget to the left, and there is also a Facebook Fanpage widget on the front. The Fanpage widget was not displaying correctly when I looked at the site.

Add profile icons above the fold.

Add a newsletter and start capturing email address's. Use either MailChimp or MadMimi, both of which have free options to start out. Add a email newsletter sign up to your Fanpage as well.
Images need to use alt and title tags. When someone hovers over an image, the text that appears is the result of using alt and title tags.
Use more images. Food, especially catering is very visual. People want to see what you have to offer.
Title tags are not optimized.
I would suggest redoing the site in WordPress.
Social Media use needs to be more regular. Would suggest sharing images across all of your social media channels to include Instagram, Pinterest, and Facebook.
Add Instagram tab to Facebook, and use Instagram to update your Facebook more regularly.
If you don't redo your site using WordPress, at a minimum, have your developer, create an external CSS file to reduce the amount of code. This should also improve the load time.
Change the primary category you are listed under in Google from Event Planner to Caterer.
Finish all your social media profiles.
Optimize all title tags – For SEO, title tags still play an important role. For example, your current home page title tag is "Home of Baird's Catering". Change it to something like "Catering for Wedding Receptions and Private Parties in Pottstown PA – Baird's Catering".
Moz Local score of 36% for the term "Baird's Catering & Events" and 38% for "Baird's Catering".  Use this tool to improve your citations on sites like Superpages, Facebook and the like. Citations are listings of your business that include NAP(Name Address and Phone) but frequently also include website address. Use the same name for your business on all of the citations.
And lastly, get happy customers to review you online, in particular on Google. (see image below)
That is it for my brief assessment for Baird's Catering. If you would like to have us do an assessment of your site/online marketing, please contact us via our contact page to discuss our local SEO services.

Sign up for our email list!