I was Googling Churches on Saturday night in an attempt to find a church service near us that we had never been to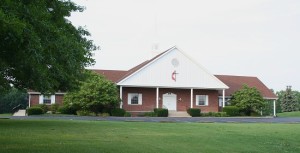 before. Our Church, North Point Community Church, is currently located in a school, but is moving a bit further away into a rented space. We have been thinking that it would be good to find a church family that is in our own back yard rather than driving 45 minutes. We did finally decide on visiting St. Andrews for our Sunday Service yesterday, and enjoyed the sermon and the traditional hyms very much. Although, the phews were not very full, which might be due to it being an August Sunday. We might want to check out the earlier service which is contemporary. Anyway, enough about our Sunday.
Last Weeks SEO News
Last week in SEO news, we learned at the end of the week that Google is now showing a 3 pack of local results instead of a 7 pack. When doing searches on a desktop, it looks like Google has limited the links to Website and Directions. Doing the same search on a mobile device, you only get the phone number. Hmm, where has the Google+ link gone too?
Do these results indicate that Google is getting rid of Google+?
Looking at these results several questions come to mind, not the lease is the Google+ issue(time will tell). First, is there a Hcard for church meeting times. I see that Morning Star Fellowship is the only church that has operation hours. If I were doing this search on the weekend, would it indicate service times? Doubtful.
Local Search Tip for Church Sites
If I were working on a church site, I would visit the Schema.org page for churches and implement the code to indicate service times. Additionally, even though Google+ pages are not being shown, I would complete the page and add the service hours.
Next, to insure people have the correct times, I would visit Moz.com Local listing checker to be sure all of the listings for the Church are consistent on all sites that people might visit to find service times. This site is very helpful for analyzing online presence on sites like Facebook, Google+, Yelp, Superpages and the like. It also will tell you if there are duplicates, or if more information is needed in your listings.
Meanwhile I would also insure that my Churches website is mobile friendly by running it through Google's Mobile Friendly Test tool. If not, it may be time for a site redesign.
Need SEO for your Church?
If you would like we would love to help your church with its SEO Give us a call or send us an email and we will give you a site assessment to get you on your way or give you a proposal for services. We also can act as your SEO coach if you want to do the SEO in-house. Please feel free to give us a call or send us an email by visiting our contact page.

Sign up for our email list!