The other day I stopped in to Little Richards Lunch Box,(out of business, another eatery is there now) which is close to my home. I had never been to Little Richards, in spite of driving by it several times a week. While there waiting for my food(its made fresh while you wait, so its not fast food), I wanted to check in on Facebook. First off I had a hard time finding it on Facebook, but I then used Google and found it. Yes, I really hate the Facebook search function some times, you would think it was supplied by Bing. So since Little Richards is relatively new, I decided I would do a blog post about some suggestions for local SEO for restaurants and Online marketing to help Little Richards and other restaurants.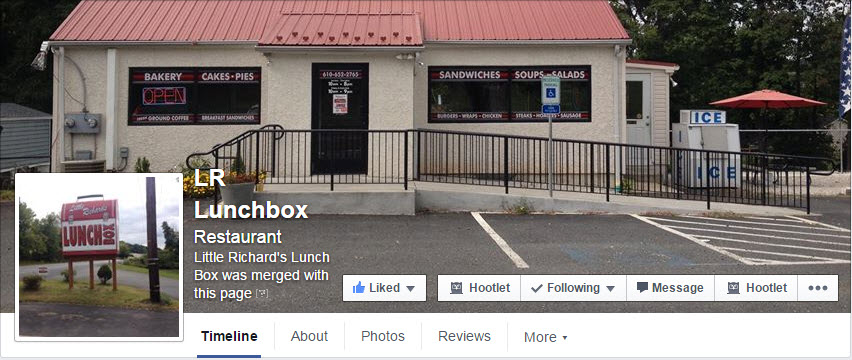 Local SEO and Online Marketing for Restaurants
I could not find your menu any where. Add a pdf of your menu to your Fanpage.
Get a vanity url on Facebook. Visit http://www.facebook.com/username to do this. Make sure you use Little Richards in the url, unless of course you are trying to distance yourself from the Little Richards brand..its got a following in the area though. Oh, good job on having a Fanpage and updating it.
Change the name on FB from LR Lunch Box to Little Richards Lunch Box to make it easier to find.
Get a real website. WordPress is cheap, or you can do a Wix site. Need help, let me know.

Make sure your site is mobile compliant
should be integrated with social media
easy to update(both WordPress and Wix are dead easy to update)

Claim your Google+ local page, and make sure all the info is correct such as your contact info, hours etc.
Get reviews on Google, these help to push you up in the search engines. Let me know if you need help getting your customers to review you on Google+. ( a future post is coming)
Encourage patrons to check in on Facebook by incentivizing.  ie Free Fries with your order when checking in. or upgrade to a large shake.
Monitor your web presence on Moz Local. Currently, Little Richards has a 53%.
Get active on Social Media, which means updating your Fanpage at least weekly. Daily is better. When someone leaves you a review, good or bad, be sure to reply.
Have a super menu. You need to have items that will cause people to come from miles around. The lunch box sign is cool, but a killer burger like the one I had the other day will bring me back. Think Diners and Dives. Oh, Love that show..Just makes me want to go to Ohio for a G&R Tavern Baloney Sandwich..oh yeah…If you do this last one, I guarantee, your reputation will do the rest. I think you are onto something with burgers like the All-in-one burger…keep it up!
Check out 10+ Local SEO Tips for Restaurants on Linkedin.

Sign up for our email list!